An ANTI-COMMUNIST "MANIFESTO" …
KILLING "SACRED COWs" …
SOCIALism = SUICIDE … COMMUNism = MURDER
WHAT MARX GOT WRONG: everything (capitalism) … AND everything else (communism) …
The (Marx-ist) PROBLEM: WRONG (a mis-diagnosis) …
the MARX-ist "SOLUTION": WRONG-er (economic "malpractice" … malfeasance … malevolence)
MARX-ism is STUPID … SIMPLISTIC … SINISTER … SUICIDAL
FAILED CRUSADES … ECONOMIC … POLITICAL … CULTURAL … RELIGIOUS
MYTHOLOGY EVIDENCE … #1 a FAILED CRUSADE … LINGER-ing CANCER … #2 … GETS NATURE … HUMAN NATURE … WRONG … #3 … ENVY UN-LEASHED … IDOL of EQUALITY … LEVEL-ed LOW in MISERY … #4 … FINANCIAL FUTILY … #5 POWER – DIVIDE and CONQUER… #6 … DICTATORSHIP of the PROLETARIAT … The Road to Serfdom …
MYTHOLOGY: ECONOMICS
MARX-ist MYTHOLOGY (evidence) #1
a FAILED CRUSADE … a LINGER-ing CANCER …
TOTALITARIAN "SOCIAL ENGINEERING" … gone "wild" … gone "wrong" …
FEEDing CATS CORN …
The Economic "Problem" – SCARCITY – there is "NEVER ENOUGH" SUPPLY
The Marx-ist Economic "SOLUTION": MORE SCARCITY (the "Logic" of LESS – decrease supply
economically WRONG …
"COMMON SENSE" Economics … FIX "LESS" with "MORE" …
SCARCITY – the MORALITY of MORE (interests … supply and demand … enterprise … earned success … limited (not "totalitarian" government)
COLLECTIVE NON-sense … FIX "LESS" … with LESS … (envy)
MARXists GET the ECONOMIC PROBLEM WRONG …
"INTERESTS" are an INHERENT, IN-escapable PART of HUMANITY … and ECONOMICS …
JUST LIKE "REAL ESTATE" is LOCATION … LOCATION … LOCATION
ECONOMICS is INTERESTS … INTERESTS … INTERESTS
"The PROBLEM" (economic) … EVERYONE HAS "INTERESTS" …
"The ANSWER" (economics)… WHAT WE DO WITH THEM …
MOTIVEs and MORE ... (nature & human nature)
MARX-ist MYTHOLOGY (evidence) #2 ..
MARX-ist MYTHOLOGY GETS NATURE … HUMAN NATURE … WRONG …
"SELF-INTERESTS … FREE WILL … INSTINCTS … OPPORTUNITY (where one starts) … "PROFIT" … GAIN … SELF-SUFFICIENCY … (not serfdom) … the "APPETITE" to ASCEND … a RISING TIDE raises ALL BOATS … MORE
the Marx-ist ATTEMPT to RE-DESIGN, LEGISLATE and SOCIALLY ENGINEER DIFFERENT "OUTCOMES" (where one finishes) is IN-SANITY … a REJECTION of REASON …
DELUSIONAL (utopian=nowhere) ATTEMPTS to "RE-CREATE" the "CREATION" …
INTERESTS … UN-LEASHED …
HUMANITY HAS an "APPETITE" for "ENTERPRISE" in the JUNGLE … economic "food chain" …
SUBSTITUTING ANOTHER SOURCE of FOOD-NOURISHMENT (ignoring natural "interests" away) RESULTS is a REJECTION of "DESIGN" … inviting DISASTER …
IGNORING and trying to RE-INVENT ("tragic") REALITY …
The "CURSE" of TOIL … PARADISE LOST …
MARX-ist MYTHOLOGY evidence #3 … ("wrong-er")
ENVY UN-LEASHED …
the "IDOL" of EQUALITY …
LEVEL-ed LOW … (equality in Misery)
IN-equality = "SIN" …
"EQUALITY" = "SALVATION" …
the ETHIC of EQUALITY … LOW QUALITY …
SOCIAList HUMAN SOCIAL ENGINEERING …
UTOPIAN "nowhere" … WISHFUL THINKING …
PSEUDO-"SALVATION" in a "SIN-ful" WORLD …
"TRYING to MAKE UN-EQUAL THINGS EQUAL is the WORST form of IN-EQUALITY" – Aristotle
The MARX-ist "SCAM" – "EXPLOITATION" the "SIN" of IN-EQUALITY …
IN-EQUALITY is an INHERENT PART of HUMANITY … REALITY …
MARX-ist MYTHOLOGY …
IN-equality = "SIN" …
"EQUALITY" = "SALVATION" …
FIGHTING NEVER ENDING IN-EQUALITY (in the name of "HUMANITY") BECOMES a CONVENIENT, NEVER ENDING TOOL to CONTROL … (source of IN-humanity)
The "fight" against "OPPRESSION" (humanity) enables, excuses and gets "twisted" into the destruction of "the OPPRESSOR" … (IN-humanity)
The SIN–"EXCUSE" of IN-equality FEEDS ECONOMIC "CLASS WARFARE" … WHICH JUSTIFIES POLITICAL CONTROL … to "ENFORCE" EQUALITY (envy)
MARX-ism is INHERENTLY DIVISIVE (class warfare – "haves" vs "have nots") … EXPLOITS "ALIENATION" MANIPULATED to CREATE and FEED MORE ALIENATION…
"ZERO SUM" exchange … "I WIN (gain) … YOU LOSE" …
EVENTUALLY … WE WILL ALL LOSE …
(the revolution eats all "OTHER" … before eating its OWN)
WE WILL END UP LIVING in [eventually]
a "ZERO" WORLD …
SUICIDAL "SACRIFICE" to the "IDOL of EQUALITY" ...
"TREATING PEOPLE with EQUAL-ly is ENTIRELY DIFFERENT THAN TRYING to MAKEthem EQUAL" – Hayek
the ATTEMPT to "CORRECT" IN-EQUALITY RESULTS in "CORRUPTION" …
The "TROJAN HORSE" ("trick") of IN-EQUALITY …
"FIXING" IN-EQUALITY … CREATES MORE IN-EQUALITY … (in a "tragic" world)
the "utopian" FICTION of "EQUALITY" … the "tragic" FACT of IN-equality …
"IDOL" of EQUALITY … MARX-ism "PERVERTS" ECONOMICS ("profits") to GAIN POLITICAL POWER …
ENTERPRISE (economic freedom of private "interests") ENDANGERS and UNDERMINES POLITICAL CONTROL (public "interests") …
TO "FIX" IN-EQUALITY … IN UTOPIAN NOWHERE …
SOCIALIST SHIBBOLETHS
MARX-ist MYTHOLOGY evidence #4 …
FINANCIAL FUTILITY
SOCIALISTS DO NOT KNOW HOW to COUNT …
MARX-ism PERVERTS SUPPLY and CORRUPTS DEMAND … through the "COMMANDING HEIGHTS" (top down) of STATE CONTROL …
The underpinning of the Marxist system was the LABOR THEORY of VALUE … the VALUE of a good or service depends on the amount of LABOR used to PRODUCE it.
a refreshing counter example to any cost-based theory of value:
growing an ORANGE in a greenhouse in ALASKA might cost six times as much as growing one in FLORIDA, BUT consumers would not value Alaskan oranges more than Florida oranges …
ECONOMICS is the "TROJAN HORSE" FORM of "EQUITY" … a camouflaged TOOL for POLITICAL CONTROL …
what's wrong with Communism, not just in how it DOES NOT "work" … PRACTICAL and PRINCIPLE … its theoretical structure.
A PHILOSOPHY of FINANCIAL FUTILITY …
can you spell V-E-N-E-Z-U-E-L-A ? …
Marx-ist "apologists" blame corrupt leaders (the "JOCKEY") … NEVER the "HORSE" …
the CAPITAList HORSE beats the SOCIAList PONY in the "economic race" …
"Marx-ISTS" are not the REAL PROBLEM … Marx-ISM is the PROBLEM …
The HORSE vs PONY …
MARX-ist MYTHOLOGY evidence #5 …
DIVIDE and CONQUER …
POWER (political) GAINED … by ANY MEANS (economic) NECESSARY …
Marx-ists get the ECONOMIC "problem" WRONG … (making tragic"BAD" even "WORSE")
(claimed to) REJECT "CORRUPTION" … REPLACED it with "CORRECT-ness" … more CORRUPTION … (camouflaged)
"INTERESTS" COLLECTIVE ("envy") camouflaged by "crusade" against "GREED" …
"ENVY" DEVOURS "GREED" …
Marx-ism is "UTOPIAN" = "NOWHERE"
Marx-ism REJECTS "TRAGIC" REALITY … "sin" …
MARX-ism IS SIMPLE-MINDED …
A(mother) FALSE "FUNDAMENTALISM" …
REJECTION… "DENIAL" … in a "TRAGIC" WORLD ("All Mixed Up") …
Humanity is "All Mixed Up" … "INTERESTS" ("deceiving desires") … "VIRTUES" camouflaged as "VICES" …"EXPLOITATION" used to "EXPLOIT" … "OPPRESSION" used to "OPPRESS" …
OBSESSED with "OTHER" … OBLIVIOUS to SELF …
POWER (camouflaged) … By Any Means Necessary …
"better to rule HELL" … malignant arcissism …
"POWER and PRIVILEGE" demonized camouflaging "POWER and PRIVILEGE" (hypocrisy – "I thank my God I am not like that" … "straining gnats … swallowing camels"
OUR "HUMANITY" USED as PRETEXT to excuse "IN-HUMANITY" …
A WORLD-VIEW ("vision") … PHILOSOPHY … of DIVIDE and CONQUER … CIVIL WAR … ECONOMIC CANNIBALISM … POLITICAL GANGSTER-ism and SUICIDE … ANTI/IR-RELIGIOUS CRUSADE … a WORLD-WIDE CANCER … MALIGNANCY … MALEVOLENCE … MISERY … METASTICIZED … on a global scale … MONSTROSITY …
"CORRUPT" = WRONG … "CORRECT' = WRONG-er
MARX-ism: MALIGNANT NARCISSISM … MISERY … METASTICIZED …
FREEDOM … ECONOMIC "RIGHTS" … ENTERPRISE … is the best "SOLUTION" to IN-EQUALITY and POVERTY …
MARXist PSEUDO-SOLUTIONS EXACERBATE the very "problems" it claims to seek to "FIX" …
MARX-ist MYTHOLOGY … CAPITALISM has Brought more people (untold tens of millions) OUT of (not into) POVERTY than ANY FORCE ON EARTH …
one DEFINITION of "IN-SANITY" is doing the same thing over and over again … finding FAILURE and FUTILITY … and expecting a different result the 'next time" …
POWER CORRUPTS … not "corrects"
"GARDENS" BECOME "GULAGS" …
IF "RELIGION" is the "OPIATE of the MASSES" …
GOVERNMENT (the "god" of) is the "OPPRESSOR of the MASSES" …
A FALSE (Civic) RELIGION of "DIVINE DIALECTIC" distorting human history … a CULT of PROGRESS (utopia = nowhere) …
POLITICAL IDOL-atry (god substitutes" …
BETTER to RULE HELL … by any means necessary …
"FIX" a "FAILED GOD" … ("ye shall be as gods") … human-ism … hubris …
"The ALMIGHTY" vs "The ABSURD" (nihilism … narcissism … non-sense … nowhere)
Communists ("utopians") RESENT … (Marxist "Divine Dialectic" … global state-less … border-less "proletarian paradise")
FIGHT ECONOMIC ILL-iteracy … historic in-accuracy … Marx-ist MYTHOLOGY …
MARX-ism is history's ultimate "BAIT and SWITCH" …
UTOPIAN "BAIT" (salvation) … "TRAGIC" SWITCH (suicide) …
REJECTing (God's Reality) … REPLACE-RE-MAKE Reality (Humanity)
"DICTATORSHIP of the PROLETARIAT" BECOMES JUST "PLAIN" DICTATORSHIP …
GARDENS … become GULAGS …
POWER CORRUPTS … not "corrects"
DICTATORSHIP of the PROLETARIAT
The "GOD of GOVERNMENT" … "OPPRESSOR of the MASSES" …
SPREAD EQUALITY of MISERY
MARX-ism HELPED "BENEFIT" "The WORKER" … LIKE O.J. "LOVED" NICOLE …
Marx-ist [EQUALITY] in MISERY … everything "exceptional" LEVEL-ed low … "quality"sacrificed to the IDOL of EQUALITY …
"Under "capitalism", MAN EXPLOITS MAN … under "communism", IT is the EXACT OPPOSITE" … – John Kenneth Goldbraight
"NATURE" – REJECTS "TRAGIC" WORLD of "HIERARCHIES" … LAW of JUNGLE … a WORLD of IN-EQUALity and "UN-FAIR-ness" …
HUMAN NATURE: ACCEPTS "UTOPIAN" NATURE … IGNORES-REJECTS INDIVIDUAL "INTERESTS" … APPETITES … "HIERARCHies"
CAPITALISM is the "WORST FORM of HUMAN "ORGANIZATION' – EXCEPT for ALL the OTHERS …
MARX-ists REJECT "HISTORY" … RE-INVENT REALITY" …
Marx-ists live in DENIAL … (not the river) … DYSFUNCTION … DECEPTION … DIVISION … DENUNCIATION … DEMON-ization … DELUSION … DICTATORSHIP … a DIABOLICAL DOMINATION and DESTINATION … DYSTOPIA … DESTRUCTION …
"MICKEY MAO-ists" re-living "CULTURAL REVOLUTION" … which … (warning … History "Extreme" spoiler alert … ALWAYS (eventually) EATS IT's OWN) – you historical "ignoram-ii" need to read a book about the French, Russian and/or Chinese-Cultural Revolutions)
REJECTS ("capitalist") "HIERARCHY" … REPLACES it WITH ("communist") "HIERARCHIES" …
FOOLED … AGAIN … (meet the new boss … same (worse) than the old boss
A FALSE (Civic) RELIGION of "DIVINE DIALECTIC" distorting human history … a CULT of PROGRESS (utopia = nowhere) …
The ROAD to SERFDOM …
NIETSCHE's ANTI-CHRISTIAN "SLAVE MORALITY" was replaced by a GOD-LESS 'SLAVE MORALITY" …
"COMMUNIST CAPTIVITY" … CAMOUFLAGED
RUSSIA REPLACED ONE "SERFDOM" … WITH ANOTHER …
AUTOCRACY … Mongol Tributaries … Czar-ist Tributaries … "Commissars" – Communist Tributaries … FOOLED … AGAIN
MARX REJECTed "HUMANITY" … REPLACES it with IN-HUMANity …
REJECT ("tragic") FREEDOM ("The Jungle") … REPLACE it with ("utopian") SLAVERY … SUICIDE (The GULAG)
Marx's Mythological "FALSE CONSIOUS-ness" … RESULTED in NO "CONSCIENCE" …
TOTAL-itarian "TOWERS" of rebellion … without restraint (limitations) … will do as they IMAGINE …
REPLACES GOD's "BLESSINGS" ("opportunity") … REPLACES them with HUMAN "BURDENS" ("oppression") …
"salvation" perverted down a false road into "serfdom" … slavery
"the FOOD CHAIN" of "SELF-ish-ness" (the Jungle) REPLACED by SUICIDE … CANNIBALism …
EVERYTHING … EVERYONE … LEVEL-ed DOWN to ZERO SUM …
MALIGNANT NARCISSISM … like the "original" malignant narcissist … the original "ADVERSARY" … ENEMY (of God) … "FATHER of LIES" … going DOWN … taking as many down with him as he can … to his "lake-side kingdom" … interested in an ultimate "time share"? …
DIABOLICAL DECEPTION[s] … DELUSION[s] … DESTRUCTION … DE-CONSTRUCTion … a DESTINATION …
the MARX-ist "AGENDA" … "OVERTHROW GOD … destroy capitalism"
POWER … better to rule HELL … by any means necessary …
(which "side" conducts "witch hunts" and makes "enemies lists")
NO "PERSONS"…"CITIZENS" with IN-ALIENABLE RIGHTS sourced in "the CREATOR" … NOT "SUBJECTS"living under a "DIVINE RIGHT" pseudo-political "ruling class)
JUST "PEON-age" … subjugation … servitude … subsistence …
the "(post?) modern" ROAD to SERFDOM …
NEW, MORE VICIOUS "HIERARCHIES" in the NAME of "EQUALITY" … bait and switch … FOOLED … AGAIN …
"TWISTED" … TOTALITARIAN EQUALITY … of OPPORTUNITY … (where you START the race) … INTO OUTCOME (where you FINISH the race) …
EVEN WHAT "MARX-ism" CLAIMS as "RIGHT" (correct "equality"… is ALL "WRONG" ("corrupt")
HYPOCRITES (Progressive "Poseurs") DECRY SYSTEMATIC (fill in blank) … as they RUN [are] "The SYSTEM" …
A "FAKE" VIRTUE ("equality") … EX-CUSING VICE[s] ... (envy)
MARX-ists DECRY "POWER and PRIVILEGE" … from their OWN positions of POWER and PRIVILEGE …
LIKE PSYCHOTIC CATS CHASING THEIR OWN "TAILS" of PROGRESSIVE PATHOLOGIES …
REJECT ("tragic") FREEDOM … REPLACE it with ("utopian") SLAVERY … SUICIDE
REJECT "GREED" … REPLACE it with "ENVY" …
REJECT "EXPLOITATION" … REPLACE it with … "EXPLOITATION"
REJECT "OPPRESSION" … REPLACE it with … "OPPRESSION"
REJECTS "SIN" … REPLACES is with SIN-ister … SUICIDE
Human Totalitarian Towers – "without restraint" … do as "they IMAGINE" …
DIVINE "PROTECTION" from HUMAN "PROJECTION" (babel-non-sense) …
"IF there is no God, everything is permissible" – Dostoevsky
REJECT "religious-theistic" IDOL-atry … REPLACE it withA-theistic POLITICAL IDOL-atry …
REJECT "TRAGIC" REALITY ["The Almighty"]… REPLACE it with "UTOPIAN" … NOWHERE … ["The Absurd"]
Using "reason-ing" against GOD is like cutting off the tree branch you are sitting on … (C.S. Lewis)
"SIN" is "TRAGic" … "SALVATION" is BEYOND TRAGEDY … "Deceptive but true" … oops … some "History X-treme" …
CAPITALISM is "BAD" … COMMUNISM is WORSE …
"Capitalism is the WORSE form of economics … EXCEPT ALL the OTHERS" …
CAPITALISM "WORKS" … WHAT "CAPITALism"GETS "RIGHT" …
the MORALITY of MORE …
FEEDING CATS MEAT
FREEDOM
"SELF-INTERESTS … FREE WILL … INSTINCTS … OPPORTUNITY (where one starts) … "PROFIT" … GAIN … SELF-SUFFICIENCY … (not serfdom) … the "APPETITE" to ASCEND … a RISING TIDE raises ALL BOATS … MORE
COMMON SENSE" economics – FIX "LESS" (never enough) with "MORE" …(enterprise)
The INDUSTRIAL REVOLUTION (The "Great Enrichment")
The "Cambrian Explosion" of WORLD ECONOMIC GROWTH and WEALTH CREATION of UNPRECEDENTED SCALE …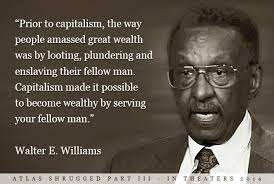 "HISTORICITY" – Capitalists "ACCEPT" and "embrace" the INDUSTRIAL REVOLUTION ("tragic") …
CATS are CARNIVORES THAT FEED OFF "INTERESTS" … APPETITES for "NOURISHMENT" of "SELF" in NATURE'S "FOOD CHAIN" …
FEEDING CATS MEAT #1
GEORGIA … the former Soviet republic of Georgia … a "New Capitalism."
since 2005, the minister of economic reforms, Kakha Bendukidze … implemented numerous free-market reforms, reducing the government's size, deregulating, and privatizing businesses.
One statistic: he cut the number of employees in the Ministry of Agriculture from 4,374 to 600
He also implemented a flat-rate income tax, which replaced the "progressive" tax that the International Monetary Fund had helped design.
GEORGIA … FEEDING CATS MEAT … after decades of Communism and then, following the Soviet Union's collapse, over 12 years of socialism … THERE is NOW "HOPE"
gross domestic product recovered in the mid-2000s, growing in double digits thanks to the economic and democratic reforms brought by the peaceful Rose Revolution.
Georgia continued its economic progress since, "moving from a near-failed state in 2003 to a relatively well-functioning market economy in 2014"
In 2007, the World Bank named Georgia the World's number one economic reformer and has consistently ranked the country at the top of its ease of doing business index.
Georgia's economy is supported by a relatively free and transparent atmosphere in the country.
According to Transparency International's 2018 report, Georgia is the least corrupt nation in the Black Sea region, outperforming all of its immediate neighbors, as well as nearby European Union states.
With a mixed news media environment, Georgia is also the only country in its immediate neighborhood where the press is not deemed unfree.
Since 2014, Georgia is part of the European Union's Free Trade Area, with the EU continuing to be the country's largest trading partner, accounting for over a quarter of Georgia's total trade turnover
Following the EU trade pact, 2015 was marked by further increase in bilateral trade, whereas trade with the Commonwealth of Independent States (CIS) decreased precipitously
FEEDING CATS MEAT #2
between 2000 and 2012, "the rate of absolute poverty in the world fell by 50%" …
That is, "the poor in the world are getting rich at a rate that is absolutely unparalleled in all of human history."
Heritage's 2019 Index of Economic Freedom reported that the greatest advances came in African and Asian countries (such as Botswana and Taiwan) that limited rather than expanded the role of government.
More than 100 countries, many of them with less developed or emerging economies, showed marked advances in economic growth and individual prosperity.
SOCIALIST SHIBBOLETHS ("burdens") … CAPITALIST ("blessings"0
SWEDEN … (Lessons from …)
a "SOCIALIST" country without SOCIALism … "MARKET "Marx-ism"
In 1970, Sweden was the fourth-richest country in Europe
By 1995, it had fallen to 14th. During this period, no new jobs were created in the private sector.
Its error acknowledged, Sweden quietly and gradually REJECTed its WELFARE STATE AGENDA …
It did so by deregulating, FREE-ing trade, cutting taxes, partially PRIVATIZINE the nation's pension system, and issuing SCHOOL VOUCHERS (choice)
SINCE THEN Sweden has become successful AGAIN
DENMARK
another nation Bernie Sanders has held as the model the U.S. should follow? 
Bernie Sanders is/was wrong about DENMARK too 
Years ago, Denmark Prime Minister Lars Lokke Rasmussen scolded those in the U.S. who would "associate the Nordic model with some sort of socialism"
"Denmark is far from a socialist planned economy.
Denmark is a MARKET economy"
SPAIN:
in 2013, after just "a few years, Spain had gone from budget surpluses, a growing middle class, and generous social supports …
… to wrenching austerity policies and collapsing wages, triggered by the massive failure of Spanish banks."
At that time, "Spain's decades-long economic model was coming undone."
Spain had been a "modern, wealthy, technologically advanced European social democracy."
But then, "the Socialists launched the largest stimulus package in the European Union, as a share of the economy.
But despite this intervention, the Spanish economy was still stagnant by 2010 and the deficits were staggering."
The national debt doubled "practically overnight."
Banks and governments failed, taxes were raised, unemployment reached Depression-era levels, and the economy became a DISASTER
Spain is just another one of those countries that "experimented with quasi-socialist governments" and has had to pay "the bitter price" for indulging in the exercise.
ISRAEL
was ruled for THREE DECADES by SOCIALIST IDEOLOGUES … NEVER ROSE ABOVE THIRD-WORLD STATUS … REMOVED SOCIALISTS and ECONOMY TOOK OFF … another reason Israel is hated by the LEFT …
CHINA
economy is "FAKE MARX-ism- SOCIALism" …
BUT ALSO FAKE …"CLOSET" … "CRONY" CAPITALISM) …
"FIXED" … NOT "FREE" … "COLLUSION … NOT "COMPETITION" … COMMUNIST "PARTY" … MARX-ist MONOPOLY" …
The Communist PARTY runs the government but allows a great deal of private property and ECONOMIC freedom
"INTERESTS" (individual) … UN-LEASHED … (The "INVISIBLE HAND") of choice
NOT "INTERESTS" (collective) … ENVY "ENFORCED" ("The IRON FIST") of "command" … all LEVEL-ed low in equality of MISERY …
SOCIALIST SUICIDE
MORE "BAIT and SWITCH" …
JOCKEYs and PONIES …
"Back in the USSA" … a July 2018 socialist conference in Chicago
PROGRESSIVE "PRAVDA" … "PRESS … PRIESTS … PARROTS of PERVERSION"
… hardcore socialists were engaged in a gigantic BAIT and SWITCH:
ATTRACTing ("BAIT") young people with their views on issues like abortion, the environment, and immigration, not with socialist ideas per se.
How did the speakers deal with the horrible FACTS ("SWITCH") about North Korea and Venezuela? …
One speaker BLAMED North Korea's poverty on natural disasters, the end of Soviet aid, and U.S.economic sanctions
All have contributed to North Korean poverty, of course, but notably missing from his list of causes was the main one: SOCIALism ITSELF …
And the socialist speaker on Venezuela, after correctly detailing the mess in that country … blamed it on … Chavez's and Maduro's "STATE CAPITALism"
LESSON #1 – "people have a 'PERSE HEART of DISBELIEF" … "PREFER darkness more than light" …
LESSON #2 – people have not ever met a "SCAPEGOAT" they DID NOT LIKE …
"JUDGMENT" … we were "warned" … pointing "the (one) finger at someone else results in three (3) more pointing back at YOU" … beware the 'LEAVEN of the PHARISEES" …
SOCIAList SUICIDE and COMMUNIST "CANNIBALISM"
"Just Say No – don't drink the "Kool-Aid"
MARX-ist MESSAGE … MYTHOLOGY … MYOPIA … (hiding in plain sight)
BOW to the BORG – RESISTANCE is FUTILE …
Socialism Now, Socialism Tomorrow, Socialism Forever — The RUIN Of Nations
Don't think that the American Democratic Party's attachment to socialism is only at the extreme fringe.
A recent Gallup Poll found that 57% of Democrats and Democrat-leaning independents hold a positive view of socialism, while just 47% favorably view capitalism.
It seems impossible that America could ever become one of the countries that has been ruined by socialism. But these numbers don't inspire confidence.
the truth – Socialists promise a CLASS-less society (garden) but create the prison CAMPS of the GULAG …
They abolish private property BUT depend upon the underground economy
Here are some of the most telling FAILURES of socialism.
One, socialism has NEVER succeeded anywhere,
Two, Karl Marx has been WRONG … WRONG-er … WRONG-est … about nearly EVERYTHING he predicted.
The nation-state has NOT withered away. (the political-state still on "some level" represents our "interests")
Capitalism didn't break down as a result of the Industrial Revolution.
Workers haven't become revolutionaries but capitalists.
The MIDDLE CLASS has NOT disappeared;
indeed, the MIDDLE CLASS has expanded exponentially around the world as relative poverty declines … is the glass half empty or half full? …
"A world of GREED created a WORLD in NEED" … a MONSTROUS LIE … MYTH …
PEOPLE are BORN "GREEDY" and in NEED … NOT "BECOME" ("blank slates") that …
the ROUSSEAU view of HUMANITY "BORN INNOCENT" … the "NOBLE SAVAGE" … VICTIM of "SOCIETY" (not "self") is deceptive, delusional, diabolical)
The ROAD to SERFDOM
SERVILITY … SUBJUGATION … SLAVERY … SUBSISTENCE …
BAIT and SWITCH … FOOLED … AGAIN …
our leaders fool (mislead) us … because we fool EACH OTHER … because you-I fool MY SELF …
Orwell said that to keep a "secret" from others required one first to be able to keep a "secret" from one self …
"The devil manifests (malice … malevolence) as an "ANGEL of LIGHT" …
Marx's attempt to use Hegel (the "divine dialectic") to create history of "humanism" … "secular salvation" … a "scientific socialism" has been an abject failure.
Marx-ism IS "SCIENTISM" … pseudo-science … OPINION (meta-physical philosophy) DISGUISED as OBSERVATION…
The ORIGIN of LIFE is still an "UNSOLVED MYSTERY" ...
The "scientific" world is NOT very "scientific" (empirical) –
"LIFE" is filled with COMPLEXITY … PURPOSE … DESIGN … BEYOND OUR UNDERSTANDING … still … the more we "know", the more we realize what we don't know)
worshipping the "God of Random Accident" is a "BLIND FAITH" … like believing a TORNADOcan blow through a JUNKYARD and assemble a JUMBO JET …
MARXism is 'PSEUDO-SCIENCE" … a civic-pseudo-religion "camouflaged" … like most modern "isms" … Darwinism, Freudianism, Post-Modernism, etc…)
MARX-ism (and all it "modern" manifestations … "deconstruction" … post-modernism … critical theory, etc.) is a BLIND FAITH …
Marx-ism is a "MESS" … bad economics … politics … religion … culture … arts … intellectually …
the ABSURD … nihilism … narcissism … nonsense … (leading us) nowhere
socialism DENIES the existence of an essential human trait – human nature.
Marx borrowed from the "Enlightenment" (humanism) to declare that human nature was malleable, not constant …
Christian theology with its idea of a fixed God-given nature infuriated Marx.
Marx-ism … The ABSURD vs The ALMIGHTY …
Marx was "mad" at God for NOT Making Marx god … ("ass-inine" atheism)
for seven decades to create an entirely new human being – Soviet Man.
In December 1991, Mikhail Gorbachev gave up trying and dissolved the world's most spectacular failure in human engineering.
socialism depends not upon the will of the people but on the dictatorship of the Party to remain in power.
In "The God That Failed, gigantic gap between their vision of a socialist utopia and the totalitarian reality of the socialist state.
Andre Gide said: "I doubt where in any country in the world – not even in Hitler's Germany – have the mind and spirit ever been less free, more bent, more terrorized and indeed VASSAL-ized than in the Soviet Union."
Marx-ism is an "ESCAPE" from historical reality …
after 40+ "attempts" and "experiments" around the world …
SOCIALIST APOLOGISTS ALWAYS BLAME the "JOCKEY", NEVER the HORSE
SOCIALIST EXPERIMENTs (in FAILURE"
Examples of previous direct communist or socialist party rule in non-socialist multi-party democracies and constitutionally socialist states include:
P.S.
"The DYSTOPIAN DISEASE"
"PROGRESSIVE" UTOPIA INEVITABLY BECOMES DYSTOPIA –
DYSFUNCTIONAL, DIVISIVE DECEPTIVE, DESTRUCTIVE, DELUSIONAL … DICTATORIAL … DIABOLICAL
The road to HELL is paved with GOOD INTENTIONS …
Utopianism is a "BAIT and SWITCH"-
… its causes and crusades have resulted in history's worst cases of destruction and disaster.
NAIVETE and HUBRIS hypocritically HIDES a will to POWER
DEMOGOGIC POWER in the service of the "IDOL of EQUALITY" – to "LEVEL" of ANYTHING "EXCEPTIONAL".
"IN-equality" is the (utopian) "ENEMY" – WE MUST BE FORCED to be EQUALLY MISERABLE (in dystopia)
SOCIALIST "UTOPIA" (dystopia) …
The COMMUNIST CON –
OBSESSION with "OTHER" …
OBLIVIOUS to SELF (straining gnats, swallowing camels)
Utopian IDEALISM serves as utopian BAIT to demand POWER, ("heaven")
ignoring the REALISTIC dystopian SWITCH that results. ("hell")
Promise of "HEAVEN" inevitably results in HELL (and vice versa)
Progressives pathologically seek to DESTROY the past, toward a narcissistic, nihilistic path to utopian NOWHERE and NONSENSE.
Progressives are totalitarian twits, despotic dimwits, freedom hating fascists, power loving, a-moral political perverts, wolves camouflaged as sheep, liars incapable of facing truth or reality, ignoring the unintended consequences of their own folly, a CHILD-ish MENACE to our traditional civil society.
Spiritually bankrupt sociopaths jam their warped political religion of dystopian delusion down our throats …
revealed through their own transfer and projection, camouflaging their own "sinful", spiritually bankrupt "corruption" …
"PHILISTINES" of "flesh" – hate, resentment and envy, "mobs of MISERY", out to PERSECUTE and destroy those who live by freedom – promise, prosperity, inalienable rights, pursuit of happiness …
We are all "victims" of liberal lunacy and "license" that persecutes "heretics" who question their pseudo-religious "IDOL-atry" and madness.
"Progressives" are regressive "TOTALI-TARDS", self-righteous hypocrites of "CORRECT-ness", who ignore there own CORRUPTION.
… confused, cognitively dissonant, clue-less, corrupt nihilists and narcissists with no moral compass …
POWER CORRUPTS … no one is "fit" to rule – Lord Acton
Progressives are clue-less regarding POWER.
They are hypocritically not "corrupt" – you and me ("clingers" and "deplorables") are and NEED TO BE "CORRECTED". (by their psychotic, socio-pathic "feelings" and political IDOL-atry)
They are POSEURS – pretenders – political "PHARISEES" of self-righteous hypocrisy, "WHITE WASHED HOUSES, full of DEAD MAN's BONES" …
political theater (POSEURS-PRETENDERS) …
the "virus" of "VIRTUE SIGNALLing", excusing their SECRET VICES" …
"TOTALITARIAN TERMITES … devouring our freedoms and prosperity …
[DO NOT] "Bow down" to "The BORG" – resistance IS [not] futile …
But that's MY OPINION. (backed up by some facts and "reality")
That's your "right" as an "American" to be an IDIOT! (in-correct) I must respect that on some level.
I'm a heretic, non-conformist "libertarian" – go ahead – drink the Kool-aid if YOU like …
It's the "UTOPIANS" vs "the TRAGIC" –
Potential utopian REWARDS (bait) outweigh any dystopian RISKS (switch) …
FOOLED … AGAIN …
ANYONE WHO "GETS in the WAY" (heretics) of "PROGRESS" WILL BE "SACRIFICED" in the UTOPIAN CRUSADE … (never mind the dystopia)
The "EXCEPTIONAL" MUST be ERASED and "LEVEL-ed" …
"EQUALITY" CANNOT CO-EXIST with "EXCEPTIONALITY" …
The "OLD" DYSTOPIA MUST BE DESTROYED to build the "NEW" UTOPIA …
"BAIT and SWITCH" FUTURE "UTOPIA" …
"SANE SANCTUARY" PROMISED BECOMES "INSANE ASYLUM" …
"IMMIGRATION for REFUGEES" becomes "INVASION to REFUGEE CAMP" …
IMMIGRATION HELPED CREATE 'AMERICA' … NOW IT IS BEING USED TO DESTROY'AMERICA'" …
"EMIGRATION" to "ERASE" AMERICAN …
DYSTOPIAN DECEPTION … FOOLED AGAIN …
NEVER MIND the (dystopian) "UNINTENDED CONSEQUENCES" … UTOPIA AWAITS! …
The BLIND, UNCONSCIOUS "LOGIC" is if the "OPPRESSION" keep acting collectively, their virtuousactions will necessarily reap virtuous results.
UTOPIA brings DYSTOPIA – the ENDS justify the MEANS. POWER CORRUPTS. There is NO CLASS "FIT" to RULE.
Utopianism is a naïve, morally CONFUSED, relativistic and hypocritical worldview where the existential problems of EVIL and SIN are IGNORED and EXTERNALIZED in OTHERS, NEVER THEMSELVES
The utopian GODLESS DEMONIZE critics as "HERETICS" who recognize "dystopia".
Utopian social justice is used to JUSTIFY tyranny and oppression
SOCIAL "Justice" justifies-excuses all sorts of IN-justice.
"FEELINGS" will defeat "FACTS"
Utopians IMAGINE simple solutions to complex problems, BLIND to the tragically problematic nature of LIFE
Their "solutions" have UNINTENDED consequences.
Good and bad are ALL MIXED UP.
Utopians fight greed with envy, spend other people's money, resist racism with racism of their own, INtolerantly enforce tolerance, fight crime with lawlessness.
LOVE is "tainted" with SELFISHness.
COMPASSION begets CRUELTY.
Socially engineered economic "security" creates dependence, debt and demise.
Our education "dumbs us down".
Utopians are CONFUSED and BLIND to life's tragic contradictions, flaws and hypocrisy …
Their clueless, "upside down" worldview dangerously ignores the reality of DYSTOPIA – good intentions with disastrous results.
"WE KNOW SO MUCH THAT WE DO NOT UNDERSTAND!"– Jose Ortega y GassetSearch for:
HMSECONOMICS.COM
ECONOMICSXTREME.COM