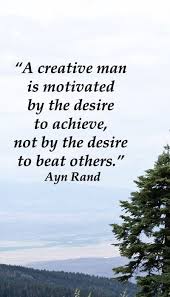 CREATIVITY and ACHIEVEMENT through "ALTRUISM" – CONCERN FOR the WELFARE of OTHERS, SHOULD BE REWARDED.
A "RISING TIDE" RAISES and BENEFITS ALL BOATS.
CREATIVITY and PRODUCTION, BEING "FRUIT-ful" and "MULTIPLYING" SHOULD BE REWARDED.
ZERO SUM GAME ("I win, You lose) is a CHOICE BASED ON ALIENATION OR "BEATING OTHERS", the FALLACIOUS IDEA THAT the ONLY WAY FOR ONE TO "WIN" is to "BEAT" ANOTHER.
"DIVIDE and CONQUER" WORKS and is EFFECTIVE.
ENVY and ALIENATION, "ENFORCING EQUAL-ity", RESENTMENT and RE-DISTRIBUTION, (TAKING from one who MAKES it) is WRONG and DESTRUCTIVE.
"PUNISHING" the CREATIVITY and SUCCESS of OTHERS to "BEAT THEM DOWN" or "LOW-er" THEM is COUNTER-PRODUCTIVE, WRONG and MALICIOUS.
BRIEF REACTION: